About the Webinar
Over the past several years, there has been a dramatic change in when, where, and how we work. What hasn't changed is the need for people to work together to achieve shared goals and the need for organizations to get things done through the power of teams. What behaviors derail productivity and fracture trust? What actions foster accountability and drive connection?
In this webinar, we will explore:
A globally validated framework designed to challenge teams to rethink their approach when working together.
A high-level overview of The Five Behaviors® model and how it can work for you
Insights that you can apply to your own teams and organization
The Five Behaviors® model takes the form of a pyramid, with each behavior serving as a foundation for the next: building trust, generating productive conflict, achieving commitment, embracing accountability, and focusing on results. Learn more about this unique and impactful learning experience that empowers teams to shape new, more productive behaviors and create a common language that redefines what it means to collaborate.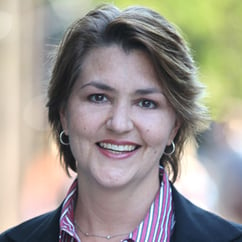 Christa Kirby is VP of Talent Development and Global Practice Director for Management and Leadership at Corporate Education Group (CEG). A licensed psychotherapist, Christa integrates her global experience as a mental health professional with her passion for holistically developing leaders and teams. For the last 25 years, she has been designing and delivering impactful learning experiences to companies, nonprofits, and non-governmental organizations all over the world.
Christa has also played a pivotal role in various national and global initiatives focused on diversity, equity, and inclusion, civil society building, and conflict resolution. Her work has taken her across North America, throughout Western and Northern Europe, as well as to countries including Afghanistan, Bosnia, Croatia, Romania, Estonia, Ethiopia, India, and Singapore. Click here to see her TED Talk, "What Lies Within Us: the Transformational Power of Creativity."
Submit the Form to Register for the Webinar